This article walks you through installing the LIVE Leads tag within your website's global header/footer, tag manager or CMS platform.
Click here to install the LIVE Leads tracking tag in WordPress.
Login to your LIVE Leads platform and select Settings.

Click the Tracking Tag tab.
Highlight and copy the tracking tag.
Paste the tracking tag in your website's global header/footer or tag manager.

Global Header/Footer
Paste the tag directly above the closing BODY tag (/body) at the end of your HTML file.
CMS (Content Management System) or Publisher
Be sure you are working in HTML mode to ensure the publisher does not alter the code. You can easily verify the code is correct by visiting your webpage online and view the source code from your browser menu.
Google Tag Manager
Install the tag as Custom HTML and set the trigger for All Pages. Save and publish your changes.
If you require a Webmaster to install the tracking tag, enter the recipient's email address and click Send to email set-up instructions to your Webmaster.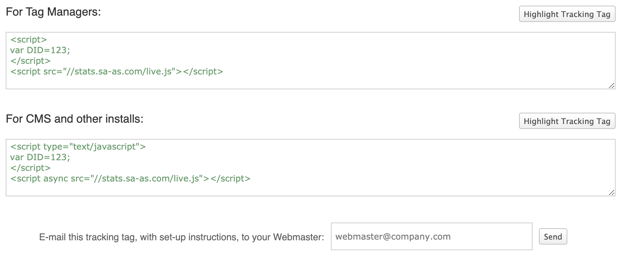 Additional Resources:
Advanced Tracking Options - Enable additional tracking features, such as: passing information about known website visitors, tracking individual links, and creating custom page names.
Optional Privacy Policy Statement
Below is an optional statement that can be used within your existing privacy policy:
Our website contains a LIVE Leads™ tag from KickFire®. This tag will track activity on the [yourdomain.com] website. KickFire's LIVE Leads technology is not connected to any combination of personally identifiable information ("PII"), cookie identifiers, or identification tags that when combined with other information received by the servers, may be used to create profiles of the natural persons and identify them. The IP Address Intelligence used by KickFire's LIVE Leads TWIN Caching™ technology removes those traces of PII and focuses at the firmographic level.

Please note: This description of LIVE Leads is not legal advice and is provided for general information purposes only. Please consult with your legal counsel for any necessary advice and assistance in using the above within your Privacy Policy.